A few weeks ago I participated in a community service project organized by my church and a few other churches in the area. There were many, many different projects and I participated in one that had us putting together benches and two bridges for a local park. Here are some pictures of the benches and bridges I helped build.
These are the three benches that we put together. They still have the supports on them, to keep the upright until the cement sets.
This is the largest bridge we built, about 40 feet long.
The same bridge from a different perspective.
This is the second, and much smaller bridge. I did not help build this one, but I helped put it in place.
I was able to help on just about everything, from putting the benches together, to digging the holes, to pouring the cement, and helping construct the larger bridge. The service project was on Saturday, April 16th, which incidentally was the date that a large storm came through and spawned a number of tornadoes in the state. Several people died and a number of homes and businesses were destroyed. It was the worst outbreak of tornadoes in the state since the 1980's. We did all our work in the morning, and we were just finishing up when the storm hit and some of tornadoes passed just north of us (several miles north, not
just
north of us).
Here is the NOAA storm reports map for that day.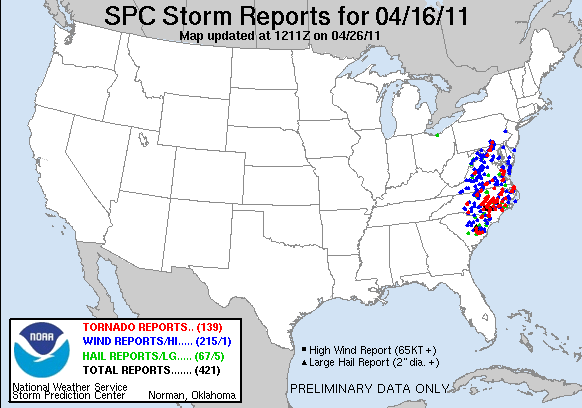 That bright concentration of red dots in the middle there, that's about where I live.